It is a well-known cliché that children's sports schools and clubs are often called "talent factories." But this description seems quite apt and fitting when it comes to our football pitch that opened up this fall in the small village of Gornyak in the Chelyabinsk region. The Chelyabinsk region is an area famous for its metallurgists and metal workers who are of capable of forging even the hardest metals into shape. It turns out that they are good not only at forging cast iron, but also at shaping young football talent into top-notch players. Our coach Ilya Koval, who took up training kids in his native village, is living proof to that.
The highest quality grade of trainees
"I have 51 kids enrolled right now," says Ilya Koval, the coach of the
Iskra
project. "We started training in about mid-September, and from the get-go, it was clear how much they enjoyed these practice sessions. As time passed, you can even see how their attitude has changed: if at first their behavior was a bit bratty and undisciplined, today their approach to what they do here is more serious. The diligence with which they do all the exercises, and the mood that they bring to the sessions show they have made definite progress."
Ilya Koval was born and raised in the village of Gornyak. Across the street from the house where he now lives is the center of local
football
life - the stadium that hosted the first
Iskr
a practice sessions. Well that's a handy coincidence, you might say. But now the streets are covered in snow, the children's
football
club has temporarily relocated to a more comfortable environment. In one of the village schools they have rented a gym where two age groups meet five times a week to play
football
for fun.
"To be honest, it was a little challenging at first. Perhaps it was the lack of experience. But then I somehow managed to find the right approach and find the keys to the kids' hearts and minds, and now I feel like a fish in water. At
football
practice, we always have a positive attitude, we laugh a lot, we joke, and that's the only way to go, I think. Of course, much of this to the credit of the kids themselves. To draw an analogy with the metal making industry our region is renowned for, I would liken them to precious noble metals. After all, it's these metals that are used to obtain the highest quality and purest products." And I have no doubt that all of my charges merit such a comparison."
How character is tempered
It is not for nothing that Ilya finds an analogy in the heavy industry sector. He was educated at the Institute of Mining and Economics, majoring in
underground coal mining. But he was not destined to become a miner as by the early 2000s all the coal mines near the village of Gornyak and the city of Kopeysk had been shut down. All the same
, Ilya Koval spent about 10 years of his life working the machine tools at the abrasives factory until he found his professional niche in the real estate business, where he works to this day.
"When I turned six years old, I signed up for boxing classes. About the same time I started playing
football
, until one day I was confronted with a stark choice. I remember my boxing coach honestly advising me, "Ilya, you'd better switch over and focus on
football
, I see how you play and how your eyes light up. So I traded my boxing gloves for
football
boots and, you know what, I have never regretted my decision. I can't imagine my life without
football
. Generally speaking, playing sports from an early age has really strengthened my character. I'm not used to giving up and no matter what obstacle life puts in front of me, I always meet it with my head held high," Ilya said.
There were many ups and downs lurking along the
football
career path of the would-be
Iskra
coach. As a player he took part in the Chelyabinsk championship, played at regional level, and even won various trophies and cups with his team (Gornyak). Unfortunately, injuries prevented him from unlocking his full potential, and by the age of 23 he realized that a professional career was not an option. However, his passion for the game never faded through the years. On the contrary, it grew until he decided to try his hand as a children's coach.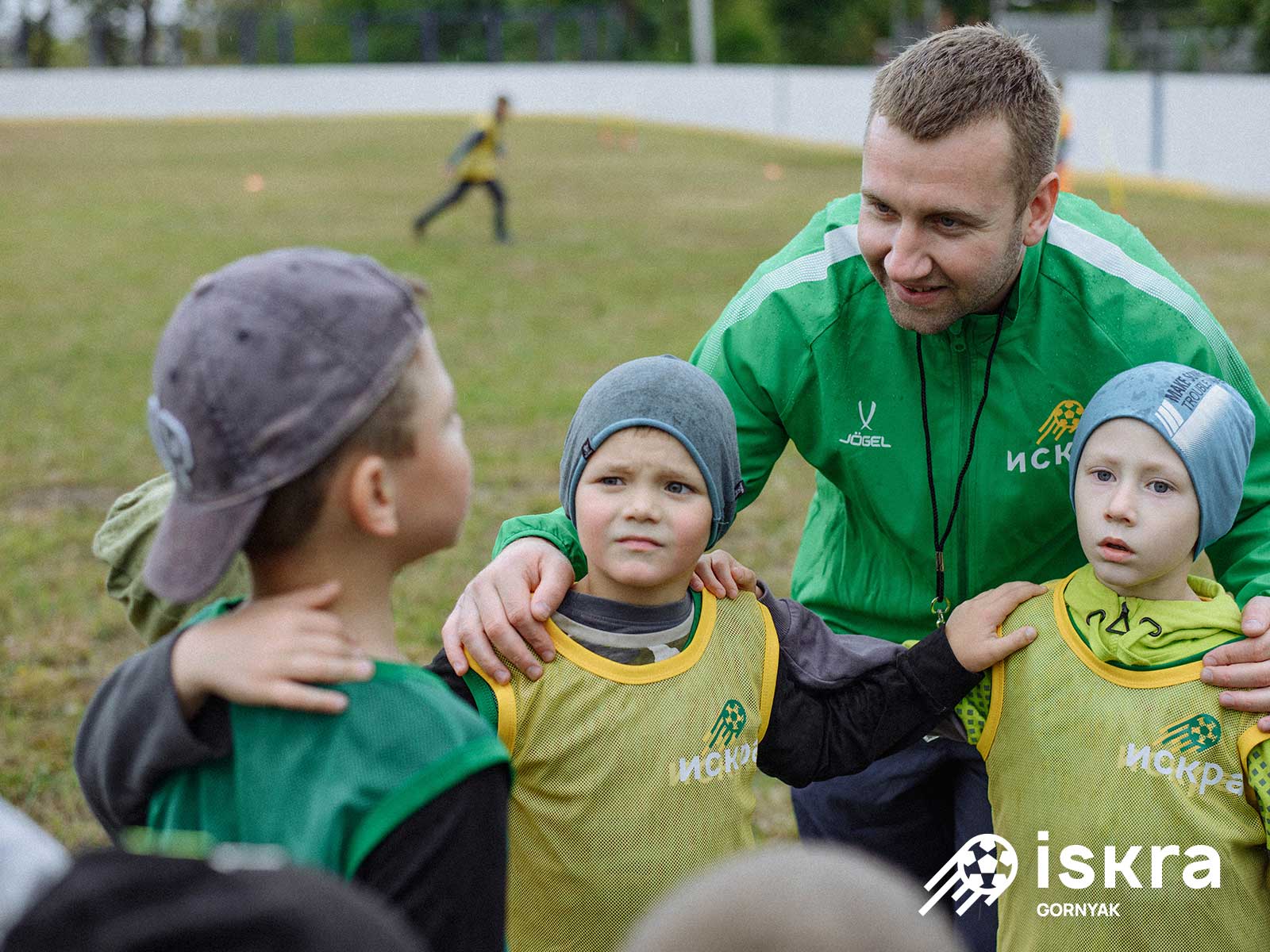 "The idea first occurred to me in 2020, when a friend of mine approached me, asking me to train his son in a one-on-one setting. It was the height of the pandemic, and all the sports schools and clubs were closed," Ilya recalls. "And just to make sure that the kid didn't lose his enthusiasm for the game, someone had to practice with him. And, you know, from the get-go, things came together and started to work out right. The kid really unleashed his potential, started scoring a lot, and even managed to attract the attention of Spartak Moscow scouts, earning an invitation to their tryouts."
After he had achieved such success with one trainee, other parents began to flock to the self-taught coach. For a while he provided individual coaching for children, until chance once again intervened in his life.
"We thought we'd entered a draw for a sports playground project"
"
How did I end up at Iskra
? That's a pretty funny story. One of my neighbors that I knew approached me and suggested that I take part in a contest. He said it had something to do with building a new sports field in our village. In the end, he sent me the link, but at that time I was very busy, and didn't even bother looking into it all that closely, I just filled out the form and sent it. To be honest, it slipped my mind and I forgot about all about it," says Ilya.
But the people at
Iskra
never forgot about the promising coach from their small village deep in the South Urals, and reached out to remind him once he passed the first stage of the selection process for participation in the project.
"So about a month or two after the application, all of a sudden I get a call saying that I passed the selection process, and offering me further collaboration. Of course, I was surprised, because all this time I had been vaguely thinking I'd entered some sort of competition. But it turned out that it was a whole
football
project, designed to give kids new opportunities. So instead of a simple sports playground, as a novice coach I got something much more important, i.e., help and support."
Ilya doesn't hide his joy and delight at the project and believes that it all came to him for a reason. Now this puts a great burden of responsibility on him for the kids, and he wants to make every effort to help them grow and develop.
"It was as if a star from heaven fell into my arms. I wanted just a sports playground, and then, lo and behold, I've already got 50 kids practicing with me. I've always considered myself a bit of an adventurous person, but this was perhaps one of the biggest lucky breaks in my life. I'm happy to be a part of the
Iskra
projects, and I hope to live up to everyone's expectations."
A ticket to the world of football
Before the Iskra
project came around, the children of Gornyak had no other option but to attend
football
training clubs in neighboring towns. The nearest ones are in the neighboring city of Kopeysk,
but most of them are located in our regional center, i.e., Chelyabinsk. Talking to the parents of his young charges, Ilya Koval often hears words of gratitude and appreciation for the project.
"Dads, moms, grandparents, everyone I talk to before or after practice - they are so happy that our village has its own
football
school. And it's completely free too! Nowadays, children's sports schools are mostly fee-based. That wasn't something I really wanted to do. I perfectly understand parents, because they already have enough bills to pay. In my book, sports should be accessible to all kids," the coach reasoned.
"
The kids do like attending our practice sessions. Sure, I would like it to be like that forever, but time will tell: I'm not making any long-term plans, I prefer to act here and now. I will think about the future later, but for now I direct all my energy to making sure that our practice sessions are interesting, fun and comfortable for the kids. I'm curious to see where the new football career path I'm on now will lead me."